How to #SquareUp in Battle :: Jan Greenwood {Ep 133}
Podcast: Play in new window | Download
When you find yourself in a fight, what battle strategy do you use?
No matter the battleground . . . Marriage challenges. Child struggles. Health trials. Overwhelming circumstances.
How do you maneuver the daily attacks that rob your joy and peace?
Today's guest is Jan Greenwood, author and Pastor of women at Gateway Church in Southlake, TX. In 2009, Jan was diagnosed with Stage IV breast cancer. After the first battle, she experienced years of healing. Then four days shy of her 6 year recovery anniversary, cancer resurged in her body.
In this episode, Jan shares what God's taught her about waging war. And how the football term #squareup impacted her battle strategies differently from the first and second time she fought cancer. Jan shares what it means for her to rest and let God fight for her. And encourages each of us to get a word and direction from the Lord for our unique situations.
Y'all know how much I love a wise woman leading us with fresh perspective and insight. Jan does not disappoint.
Here are a few of my favorite quotes from this episode:
This time my mindset has had to become one of agreement and not one of opposition. And squaring up is not about being steadfast in the Word of God, but its really about can I square up in such a manner that I can look at Jesus and trust Him.

I'm not very brave and not very strong. When I'm weak there's a strength that shines through. And when I'm afraid, He makes me courageous.
Connect with Jan Greenwood:
JellyTelly is the only streaming video app designed specifically for kids where God is real and His Word is true. Co-developed with VeggieTales® creator Phil Vischer. Instantly stream hundreds of hours of safe, affirming videos and movies for kids about God, the Bible, and faith. Available on iOS, Android, and Kindle. Popular shows include: VeggieTales, Hillsong Kids, the Jesus Storybook Bible and MANY more!
Check them out at here. Make sure you use the special discount code for GodCenteredMomPodcast listeners mentioned at the beginning of this week's show.
What we chat about:
How God spoke to Jan at the news of cancer's resurgence.
How Jan found comfort in her son's football word "square up".
The difference between how Jan has fought cancer the first time and the second time.
What "square up" means for her in this season.
The story behind the hashtag Jan uses: #bravestronggirl.
How her battle with cancer impacts her mothering.
Jan's desire to get women to war together instead against each other.
The revelation to choose life and not succumb to death.
What rest looks like in Jan's every day.
How you need your own word and direction from God.
Links Mentioned:
**Amazon Affiliate Link
---
How to listen to the podcast:
1.Listen on the blog. Click through to GodCenteredMom.com and click the play button at the beginning of this post.
2. Listen on your smartphone, iPad or iPod Touch – There are a lot of great podcasting apps. Apple has a free one (that I mentioned) in the app store, there is also one called Downcast. It allows you to search for shows, subscribe to them and even speed up the audio. If you don't have an iDevice, you can listen via Stitcher.
 – access the podcast in iTunes (Click here to access via iTunes). You can also search for it on your smartphone app (like the ones listed above) and subscribe.
She Was Stealing From The Cash Drawer, Then The Owner Set Up A Mousetrap — Here Is The Moment Of Discovery!
She Was Stealing From The Cash Drawer, Then The Owner Set Up A Mousetrap — Here Is The Moment Of Discovery!
Store thefts have definitely diminished – due to the ever-increasing security measures that store owners have adopted – but there are still people who continue to try to steal from unsuspecting shop owners.
The technique is always the same! They take advantage of a moment of chaos to put their hands in the cash draweror implement strategies to distract sales assistants or store owners.
The woman secretly filmed in the video uses a technique that is very dangerous and risky but simple and effective when it works! In fact, it is she herself who entertains a conversation with the store owner while with her right hand, she is rummaging around in the cash drawer!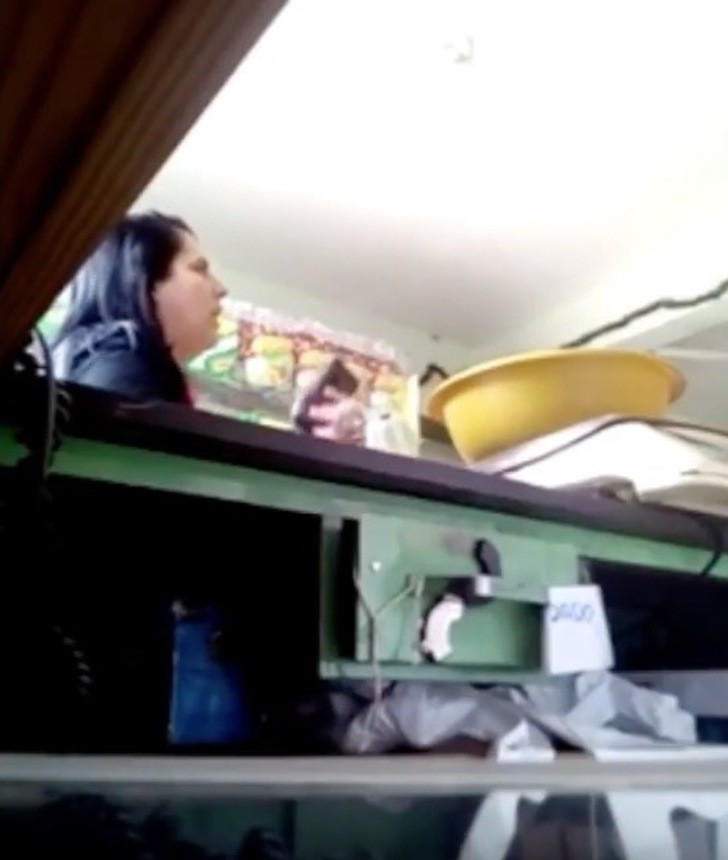 The store owner must have noticed a steady decrease in the daily cash intake, which eventually convinced him to install a hidden camera – probably a smartphone.
The store owner starts the camera when a woman, the alleged thief, enters the store. But, he does not know yet whether or not she is really the one stealing the money, so to find out he decides to film everything. 
In addition, he decides that in order to make sure that no more of his money is stolen, he substitutes the money with a mousetrap! Consequently, when the woman puts her hand in the cash drawer, she will find a surprise, and it will not be in cash!
The woman started talking to the store owner as she extended her arm towards the cash drawer, then she slowly opens the drawer … and fell right into the trap! More than likely, she was totally not expecting it, given the jump she makes right at the moment when the mousetrap snaps and closes on her fingers. 
Hearing the noise, the store owner has identified the thief and puts an end to the game by approaching the cash drawer. The woman has removed the mousetrap from her hand and with an excuse, she leaves the store. We do not know if the store owner then took the evidence to the police, but we can say that the thief has already got what she deserved!
Open A Cash Drawer Via A USB Kicker Using Any POS System Without POS Printer
A cash drawer is a big part of most businesses that deal with face to face customers. But cash drawers can be a pain to get going due to the systems required to make them work. You can't just hook it up to your laptop and expect it to work. But first, what is a cash drawer and how do they work?
How does a cash drawer work?
Cash drawers store cheques, cash, coins and other valuable items. They work in conjunction with your Point Of Sale (POS) system, which has a receipt printer which sends a signal to the cash drawer, signalling it to open when a sale is put through. This means that the cash drawer can't just be opened at any time. You can also get others that can connect to your POS computer through a serial port and get signaled to open that way. Most cash drawers will have key override, however.
Due to the design of these systems, the cash drawer has to be physically connected to your POS system in order for it to work and be able to be opened. Which leads to the question, is there a way to do this wirelessly, through the cloud?
Accessing the hardware via a browser, is it possible?
This is an issue that the cash drawer needs to be connected physically by means of a cable to your POS, which means that opening it wirelessly is not an option. So is there a way to get the drawer working remotely?
The question is really is it possible to send a hardware command via a browser to a local PC where the POS software is not hosted? In other words, can I trigger a command using a cloud hosted POS system. Many would say this is not possible, in fact we have had discussions with senior developers that have stated that is would not be possible to trigger the hardware if it's not connected to the machine hosting the POS software. This has long since been a debate between developers that this is not a possible option. Many developers all over the world have been at work on this issue, trying to "crack the code". And up until now, it wasn't. YHP have come up with a unique method to enable this to be done by using Chrome extension ability and the right code.
What does this mean?
This solution will allow you to manage a cash drawer without the use of a POS system or printer. Up until now, POS developers have essentially "locked in" customers into buying a printer and POS to manage their cash drawers, which can cost up to thousands of dollars. Now, this is no longer necessary!
With YHP's cloud solution, we allow you the ability to bypass the printer and POS system entirely, giving you full control of the cash drawer through the means of cloud technology and any computer equipped with Chrome. This means that you can run your business for your laptop should you wish. It also means that you can access your cash drawer remotely, or with a different device, should you need to. And, if you system goes down, you no longer have a disaster. Simply log into a different computer and you can carry on business as usual!
Security
Naturally, the first question would arise is would this not make the cash drawer very vulnerable? We have taken steps to ensure they your cash drawer is as protected as possible. There are two steps to the security verification when it comes to accessing the drawer.
Step one: Online login. You will need a user name and password to access the cloud based POS system which will allow you to access the cash drawer. Being a cloud based system, it can be accessed from any computers with Chrome. However, access can be restricted to only specific machines by means of step two.
Step two: Optional 256bit security tokens can be placed to specific devices and coded to your POS system to only allow the devices with the tokens to connect. So even if you have the username and password, you still won't be able to log in and access the POS system if your device doesn't have the token. This prevents the system and cash drawer being tampered with, even if someone manages to crack the login.
Your cloud POS system will be designed around the type of business you run and will a custom solution for you, so we can integrate a range of features you may need for your business into the system. This ensures a fully tailored solution which will go what you need it to. If you would like to begin designing a POS system for your business, talk to us at YHP today!
Former Conneaut Area Senior High, PA, employee charged  with stealing $4,500 from the cash drawer.
This Guy Hacked a Polaroid Camera to Print on Cheap Receipt Paper Instead of Pricey Film
Shooting on film continues to get more and more expensive, especially for fans of instant cameras like the reborn Polaroid. Sixteen bucks for just eight shots was far too pricey for Tim Alex Jacobs, so he hacked an old Polaroid camera to instead spit out images on cheap thermal paper, the same kind used in cash registers to print out your receipt.
Thief makes off with cash drawer after struggle with CVS clerk in Ormond Beach, police say
Authorities said the man bought something, but when the clerk opened the register, the thief grabbed the cash drawer.
Live ultrasound of third-trimester baby to be broadcast in Times Square | Stand for Christians
How to Print Receipts? List of Top 5 Thermal Receipt Printers – ELMENS
After you have implemented POS system, you might need a reliable printer which will help you print sale receipts. You can go visit and buy one from shops near you or order online from your favorite online shopping site. The problem faced by many is the decision of buying the right receipt printer. The printer …
Deputies looking for man accused of stealing cash drawer from register at Randolph County business
SOPHIA, N.C. – Deputies are looking for a man accused of robbing a Randolph County business by allegedly distracting the clerk and taking the money. The suspect entered the Mountain View Market at 3712 Caraway Mountain Road shortly after 5 p.m.
Skip the Slip Report Highlights Leaders and Laggards in Addressing Toxic Receipt Paper
The data are clear: Paper receipts coated in toxic chemicals pose risks to our health and have huge environmental impacts. That's why Green America is advocating for a wider use of paperless solutions, while also ensuring recyclable, phenol-free paper will be used for customers who still request a paper receipt.
Nearly every U.S. consumer handles a dozen paper receipts every week, and retail store employees may touch thousands in the same time. But few are aware of the toxic nature of the paper receipts, which utilize Bisphenol-A (BPA) or Bisphenol-S (BPS). Even fewer know of the major environmental and climate harms linked to the receipts, which are an easily avoided now that non-BPA receipts and digital sales confirmations are readily available, according to a new report from Green America.
Titled Skip the Slip, a new Green America analysis available online at which finds:
Only one-third of retailers have adopted digital options, and the vast majority of retailers issuing paper-based receipts continue to use papers with BPA or BPS coatings. Among the leaders identified in the report as having moved away from BPA/BPS receipts are Apple, Best Buy, GNC Live Well and Lidl Grocery. Laggards cited in the report as still using traditional paper receipts are Family Dollar, Petco, Target, TJ Maxx/Marshalls, Walgreens and Walmart. The report also finds that several companies, including CVS and Whole Foods offer digital receipts, but primarily give customers BPA or BPS receipts.
An estimated 93 percent of paper receipts are coated with Bisphenol-A (BPA) or Bisphenol-S (BPS), known endocrine-disruptors. Paper receipts coated with BPA contain between 0.8 to nearly 3 percent pure BPA by weight. The total mass of BPA on a receipt is 250 to 1,000 times greater than the amount of BPA found in a can of food or baby formula, or in plastic baby bottles. Retail employees are at the greatest risk, as studies show workers who have regular contact with receipts have over 30 percent more BPA or BPS found in their bodies, and many employees may exceed the European Union's limit for safe amount of BPA to absorb in a day.
In the United States, paper receipt production uses an estimated 12.4 million trees, 13.2 billion gallons of water, and emits 4 billion pounds of CO2 each year. If just one company as large as Walgreens – with nearly six million customers every day – ends the use of paper receipts, over 55,000 trees and 58.8 million gallons of water are saved, and 17.6 million pounds of CO2 will be prevented from entering the atmosphere. [calculations by the Paper Calculator v 3.2.1.
Digital receipts provide a relatively low environmental impact. Each e-receipt is estimated to have a footprint of 4 grams of carbon dioxide. Since a mature tree can absorb roughly 21,772 grams of carbon dioxide each year, by keeping trees in the forests rather than using them for paper receipts, one tree can accommodate the emissions of over 5,443 digital receipt emails.
The Skip the Slip report highlights cost-effective digital and non-toxic solutions for retailers to protect their employees and customers, and reduce their impacts on the environment, while reducing fraud and increasing sales.
It finds that Walmart, Walgreens, Target and Petco are among the retail laggards, while Apple and Best Buy are taking steps to be leaders.
A related infographic highlighting the costs of paper-based receipts coated in BPA and BPS is available https://www.greenamerica.org/report-skip-the-slip.
Consumers and employees who are concerned about the impacts of paper-based receipts and associated toxins can take action to encourage retailers to move to digital and non-toxic options here.
Green America is the nation's leading green economy organization. Founded in 1982, Green America (formerly Co-op America) provides economic strategies and practical tools for businesses and individuals to solve today's social and environmental problems. Green America is a Steering Committee member of the Environmental Paper Network – North America.  More at: http://www.GreenAmerica.org